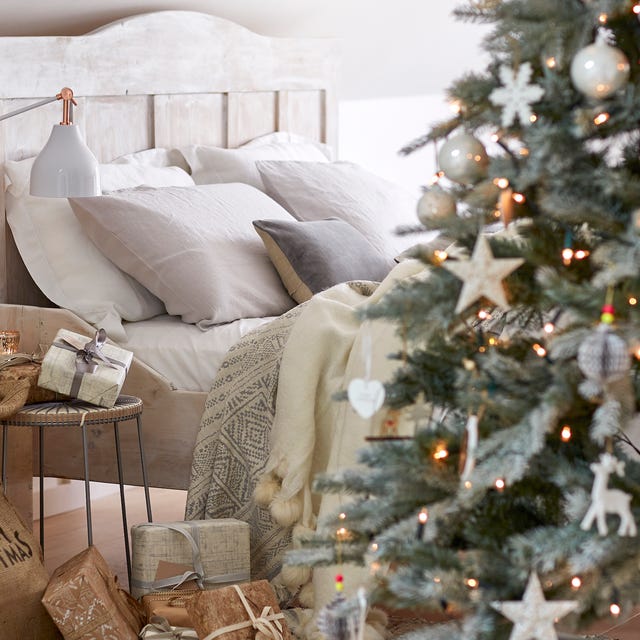 House Beautiful/Mark Scott
Having a Christmas tree in the bedroom can help to increase the quality of your sleep, new research from Hayes Garden World has found. Whether you prefer a statement spruce or a pre-lit twig tree, having one in your bedroom could boost those happiness hormones and help you nod off with ease.
If you want to bring a winter wonderland feel to your bedroom, Bed Guru's Sleep Expert, Carl Wash, has revealed just why Christmas trees can help to improve your sleep.
1. Green helps you to relax
The Christmas tree is the centrepiece of holiday decorating, so why not get one for your bedroom? According to Carl, they do much more than simply spread festive cheer: 'Green, especially softer shades, is a non-stimulating colour which is good for relaxation and promoting good quality sleep.'
If you don't have space for a large Christmas tree in the bedroom, consider smaller tabletop trees, twig trees, small potted trees, or a slim Christmas tree that won't take up much space.
2. Tree decorations spark nostalgia
'For most of us, all the Christmas festivities, decorating and the day itself is a key memory from our childhood,' Carl adds, 'so although Christmas can be a pretty stressful time of year, taking part in Christmas related activities takes people back to their childhood, where they had no responsibilities, and in that moment they forget about all the other stressful things.'
Adorn the branches of your tree with decorations which evokes memories. Whether it's traditional nutcrackers or small angels, Carl explains the importance of 'stepping away from your responsibility' and 'becoming a child again'.
3. Decorating the tree helps us to slow down
Carl says the simple pleasure of decorating a tree can bring calmness to our daily lives. During the rush of Christmas, having a beautifully decorated tree can help us to pause, slow down, and reflect.
'Taste in Christmas trees is personal; the majority of us wouldn't like to purchase a pre-decorated tree to display in our home,' Carl says. 'Plain Christmas trees allow us to be creative, bring to life the inspiration and ideas we have in our head and have complete control over how the finished tree looks.'
4. Christmas trees provide a sense of comfort
For some people around the festive season, Christmas trees provide a sense of comfort, helping to relieve stress and anxiety. With the build-up to Christmas often being a stressful time, the beautiful twinkling lights, beautiful decorations, and the real meaning of Christmas can help provide comfort at night.
5. Bright Christmas tree colours boost happiness
'As with colours in the bedroom, our brain responds to our visual surroundings,' Carl notes. 'So, when you've decorated for Christmas, the bright colours help promote the release of happy hormones.'
Follow House Beautiful on Instagram.
---
This content is created and maintained by a third party, and imported onto this page to help users provide their email addresses. You may be able to find more information about this and similar content at piano.io